THE GROUP FOUNDER
HEINRICH ROESSLER, CHEMIST AND ENTREPRENEUR
Co-founder and chief executive of the Deutsche Gold- und Silber-Scheideanstalt vormals Roessler, the later Degussa AG (predecessor of the Chemicals Business Area of Evonik).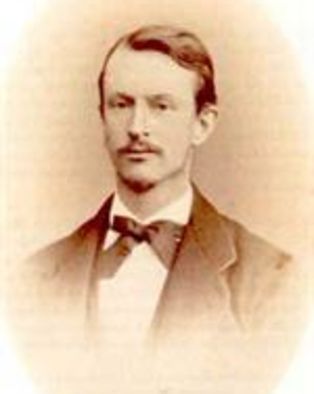 * 1845, Frankfurt/Main

† 1924, ebd.

After graduating from high school in 1861, Roessler attended the chemistry department of the Advanced Trade School in Darmstadt and from 1862-64 studied chemistry, metallurgy and mineralogy at Freiberg School of Mining. After six months' practical experience at his father's separating works in Frankfurt, he continued his studies in Göttingen where he gained his doctorate in 1866 under Friedrich Wöhler with a dissertation entitled "On dycyanic acid of palladium." In 1867 he joined the Frankfurt precious metals refinery.

When this had to be severed from the municipal mint after Frankfurt's annexation by Prussia, Roessler organized its transfer. Together with his older brother Hector he managed the private company Friedrich Roessler Söhne and developed the gold and silver separating works into a modern, efficient business.

After the Reich was established in 1871, the company was offered the job of separating some of the coins of the former small German states that had gone out of circulation following currency unification. However, the company did not have sufficient equity capital for the deposit required by the Reich. As a result, the family business was incorporated in 1873 into the joint stock company Deutsche Gold- und Silber-Scheideanstalt vormals Roessler (from 1980 Degussa AG).

Roessler was its first technical director. Among other things he developed an air filtering process that was patented in 1882. The Roessler-Edelmann process for desilverizing argentiferous lead, patented in 1890, became internationally famous. Roessler's method of producing gold imitation and his introduction of the electrolytic process into the separating works had an impact on the company's expansion.

As a liberal thinking entrepreneur, Roessler introduced the eight-hour working day as early as 1884, followed by pension and benefit funds in 1885, permitted freely elected workers' committees for the first time in 1898 and promoted further training opportunities. In 1901 he left the management of the future Degussa and from 1908 to 1924 sat on its supervisory board. Roessler, who also made his mark as a resolutely liberal politician, was elected in 1875 to the Frankfurt City Council Assembly, to which he belonged almost continuously until 1908.

In addition to his absolute commitment to social and educational issues, he campaigned vigorously for the introduction of universal suffrage. In 1909 Roessler was appointed Professor and in 1923 was awarded the title of honorary doctor of the Freiberg School of Mining. He corresponded for many years with his thesis supervisor Friedrich Wöhler and chemistry Nobel prizewinner Wilhelm Ostwald.