A brilliant idea
Gold foil from Frankfurt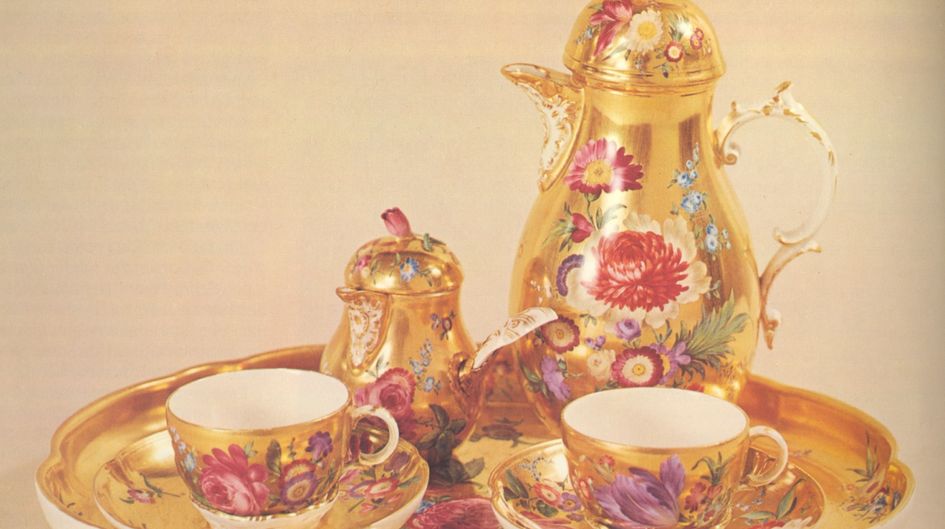 Heat resistant gold foil has always had a special place in the product portfolio at the Deutsche Gold- und Silber-Scheideanstalt (German Gold and Silver Refinery), Degussa AG since 1980 and predecessor of the Chemicals Business Area of Evonik. This is because it was the first product that the company developed itself, and its commercial success towards the end of the 19th century made a key contribution to the economic rise of the refinery business.
Gold foil from Degussa was used to decorate porcelain, ceramics and glass. The real advantage, the reason why the product stood out from all the others and which made it such a commercial success was its heat resistance. By dissolving the gold compounds in essential oils and organic solvents, it became possible for the first time to burn the gold layer onto porcelain, stoneware or glass, making it permanent.
However, before the gold foil from Degussa was ready to go into production, Heinrich Roessler, the first technical director, and his colleague in research Nikolaus Klein had had to do some very time-consuming and strenuous work. "In the end it took almost three years, with hundreds of experiments and analyses until finally, at the end of 1880, we were able to produce gold foil of sufficient quality and reliability," Roessler reminisced in 1903. With the invention of heat-resistant gold foil, which later became known all over the world as "Frankfurt gold foil," the Deutsche Gold- und Silber-Scheideanstalt was on its way to becoming an international enterprise.
As early as the 1880s, marketing organizations were set up in England, Russia and France and a second factory was built in Brooklyn, New York, in 1882. However, for almost 100 years, the main production site for gold foil was the Degussa factory in the heart of Frankfurt. In 1978, when the final production plant was moved out of the Frankfurt city centre, gold foil manufacture also moved to the new site in Wolfgang, a district of Hanau. The successful ceramic paints division which Degussa divested to the newly founded Cerdec AG in 1993 also developed from the production of gold foil. In 2001 Degussa re-aligned towards specialty chemicals and sold off all the business units dealing with metal and precious metal processing.