When the expansion of production capacities at the main plant in Darmstadt reached its limits, the management of Röhm & Haas had to look for another suitable location. In 1965, the decision was made in favour of an area of around 451,000 square metres in Weiterstadt, which was only three kilometres from Darmstadt and only one kilometre from the motorway. At the end of 1968, the first production line for PLEXIGLAS® was launched, followed by the official opening of the plant at the beginning of 1969. In the same year, a 20,000 square meter hall for storage and shipping was put into operation.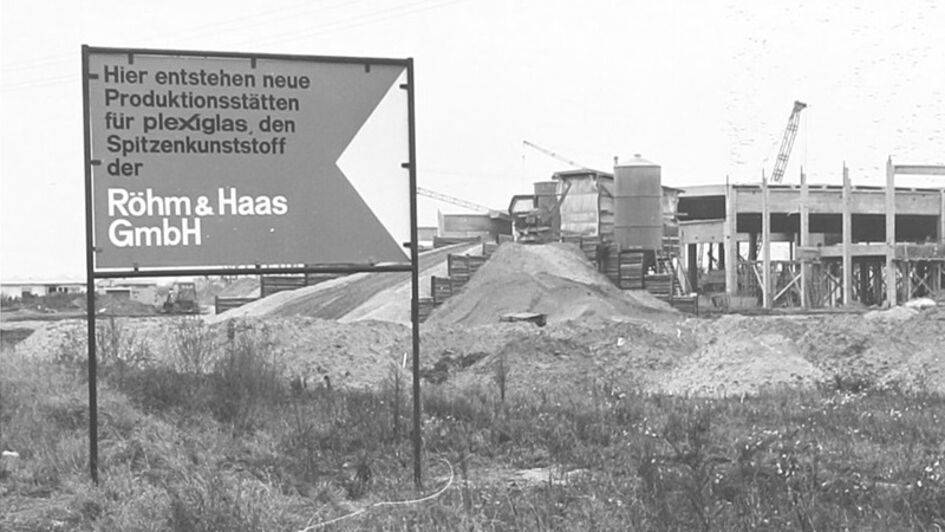 New product lines in Weiterstadt
The increasing demand for the engine oil additive VISCOPLEX,® which had been manufactured exclusively at the main plant in Darmstadt since 1953, led to the construction of a new production plant in Weiterstadt in 1973. VISCOPLEX® is added to engine and gear oils in order to ensure largely consistent flow properties of the oils even with large temperature fluctuations.
In the following decades, the site was continuously expanded. New production facilities for PMMA sheets and films as well as for pharmaceutical products of the EUDRAGIT® brand were built. Logistics has also been significantly expanded.
Weiterstadt today
Today, the Oil Additives and Health Care divisions are active at the Weiterstadt site. The site itself no longer belongs to Evonik, but to Röhm GmbH, which was founded on August 1, 2019 and bundles Evonik's former methacrylates business.