Polymers for a clear, transparent view
PLEXIGLAS®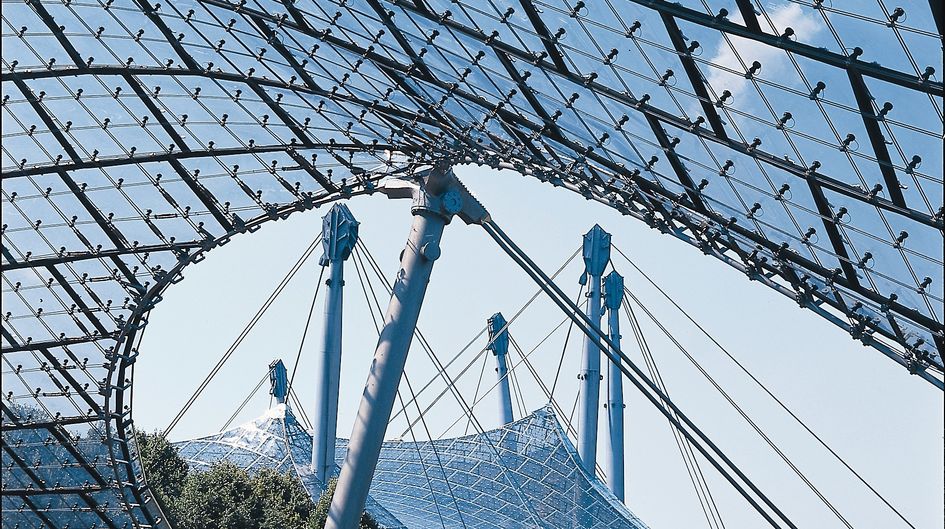 In 1933, Röhm & Haas company introduced a transparent hard and shatter-proof acrylic glass under the brand name PLEXIGLAS®. This product gave new momentum to many sectors of industry due to its vitreous properties and soon played an important role in everyday objects, glazing and neon signs. Today, the use of PLEXIGLAS® in every day life, architecture and design is self-evident.
As early as 1901, Dr. Otto Röhm had written a dissertation entitled "Polymerization Products of Acrylic Acids". Since then, he had been thinking about a way of making this material commercially useful. When the young company founded for enzyme products in 1907 made enough profits to allow research expenses, Röhm formed a research team starting in 1910 aiming the synthesis and polymerization of acrylic and later methacrylic acids. The team systematically checked all kind of properties of the acrylics and developed a transparent, rubber-like material, named LUGLAS as a safety glass for windscreens. This product was the nucleus of the acrylic chemistry of Röhm & Haas.
When LUGLAS was established in the automotive market, the acrylic researchers concentrated in methyl-methacrylates. Dr. Otto Röhm together with the head of the research laboratory, Dr. Walter Bauer, succeeded in developing a method for polymerizing methyl-methacrylate resulting in technically applicable PLEXIGLAS®.
After 1933, the new material quickly enjoyed widespread use. But the use in civilian applications, for example, for instrument covers, watch glasses and cutlery soon stepped back. This was because PLEXIGLAS® was used in particular in armaments industry for the windows of aircraft cockpits. This use caused a booming growth of the company. Between 1933 and 1943 staff increased tenfold. To keep production on high levels, also forced laborers were engaged. Due to high demand and the influence of the Nazi government, new production sites in Worms and Mittenwalde near Berlin were planned.
After World War II, new civilian uses were developed owing to the excellent weathering resistance, long service life, high breaking strength, superior light transmission properties, simple processing and low weight of the product. Examples for uses were illuminated advertising, glass roofing and façade design. In the 1960ties and 1970ties applications in sanitary facilities and greenhouse windows were added.
Today, PLEXIGLAS® products are used in a wide range of applications. They can be employed in furniture, communication technology, trade fair construction, in the field of aerospace, optoelectronics and the construction of seawater aquariums. PLEXIGLAS® molding compounds serve as a starting material for all injection-molding and extrusion applications. Besides PLEXIGLAS® sheets, rods and tubes, they play an important role in the portfolio of polymethyl methacrylates.
The most important markets for this product group are the transport sector (for the rear lights and indicator lights of vehicles), the construction and lighting industry, household goods (for kitchen utensils and containers), office technology, optics, medical technology, electronics and the communication and entertainment industry, for which CD and DVD blanks are produced, for example.
Since the fusion of the companies Röhm GmbH and Agomer GmbH in March 1999, PLEXIGLAS® is today produced at the Evonik sites in Worms, Weiterstadt and Wörth/Main.
Additionally, the Chemicals Business Area of Evonik Industries AG is producing another acrylic glass, DEGLAS®. This was produced since 1966 by Degussa AG at the Hanau-Wolfgang site (today Hanau Industrial Park), when the PLEXIGLAS® patent rights were expired. DEGLAS® is a second brand with a limited product and functional range.
By acquiring 100 percent of American CYRO Industries in 2005 the acrylic glass business of Evonik Industries was substantially strengthened. Polymethylmethacrylate is produced under the label ACRYLITE® and sold throughout the American continent. In mid-2007 a joint venture with a Taiwanese company was established, followed by the production of PLEXIGLAS® for lightening modules in computer screens. The necessary raw material will be produced in a compound facility for methylmethacrylates and methacrylate specialties in Shanghai.