CO-FOUNDER OF RÖHM & HAAS
OTTO HAAS, BUSINESSMAN AND ENTREPRENEUR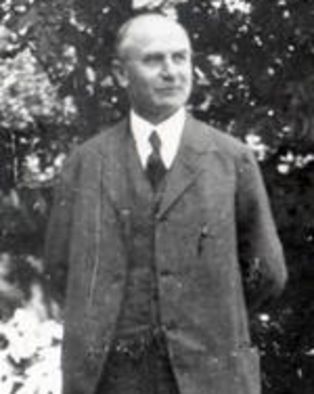 * 1872, Stuttgart
† 1960, Philadelphia/USA
After completing a commercial apprenticeship in a Stuttgart bank, Otto Haas joined Siegle & Co. in Stuttgart. In 1903 he met the chemist Otto Röhm, who was employed by the local gas works, an encounter with consequences for both of them. Although Haas initially went to the USA for the Siegle company, he returned in 1906 at the request of Otto Röhm to participate as a partner in the founding of a chemical factory for the manufacture of a product for leather staining.
In the following year, they founded the company Röhm & Haas OHG in Esslingen, whose successful product OROPON® replaced the staining method with dog excrement that had been handed down in the leather industry. As early as 1909, the enormous success made it necessary to relocate the company's headquarters to Darmstadt, where a larger plant was built near the important leather factories in the Rhine-Main area – today's Darmstadt site of Evonik Industries.
Otto Haas strongly promoted the expansion of Röhm & Haas abroad. From 1909 onwards, branches were established, the most important of which was in Philadelphia/USA. Haas took over its management itself and set up its own production of leather auxiliaries there. With the entry of the United States into World War I in 1917, the German part of the Philadelphia branch was sequestered. This was followed by the transformation into an independent company, the Rohm and Haas Company (now part of Dow Chemicals). It was thanks to the friendship between Otto Röhm and Otto Haas that the connection between the two companies was maintained until the Second World War and long afterwards.
Under the leadership of Otto Haas' sons, the Rohm and Haas Company developed into one of the most important chemical companies in the USA after the Second World War. However, contacts with the German "sister" gradually dried up after the death of Otto Haas in 1960. In addition, due to the internationalization of the economy, the two companies increasingly faced each other as competitors. In 1970, the Haas family eventually sold their shares of Röhm & Haas Darmstadt and the two companies finally parted ways.