History of Stockhausen GmbH
Beginnings as a soap factory
Stockhausen GmbH traces its beginnings back to a small soap factory that was established in 1873 on the southern outskirts of Krefeld. The co-owner and operations manager was a soap-maker by the name of Philipp Traiser from Württemberg. The textile merchant Julius Stockhausen (1851–1920), from Lindlar near Cologne, joined the company as a senior manager in 1879. On November 1, 1880, the two men founded Crefelder Seifenfabrik Stockhausen & Traiser, a limited partnership that took over the operation of its liquidated predecessor. As before, the company produced a variety of soaps for the textile industry in Krefeld.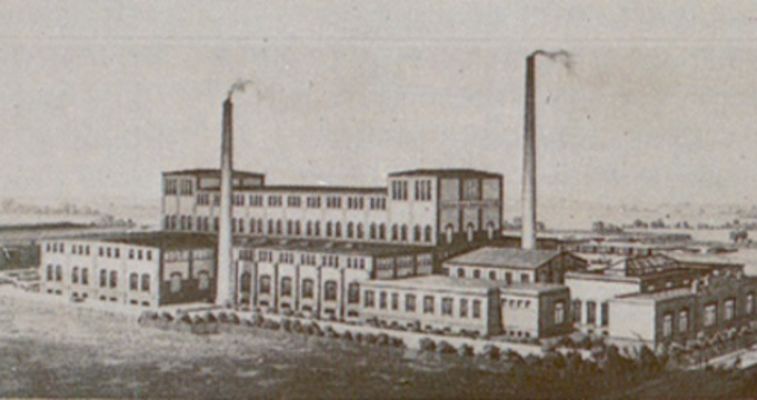 Krefeld site, historic view
Stockhausen took over the business and technical management of the factory after Traiser's death in 1882. "Marseille soap," which was used as a detergent and crosslinker in silk and wool fabrication, became the most important product in 1884. Stockhausen improved this product significantly and increased its number of applications. Thanks to close cooperation with customers and the introduction of unusual quality standards, the company enjoyed growing success.
In 1896, Stockhausen had his production process for a gelatinous soap patented. This would later turn into the highly successful "monopole soap," which was also used in the leather industry. During the subsequent years, the company developed further auxiliaries for textile and leather production on the basis of the monopole soap. The grease solvent Tetrapol was introduced in 1904, followed by Terpinopol and Tetralix for stain removal in 1912. The initials of these three trade names were combined into the triple-T logo, which Stockhausen & Cie. used until the integration of the company into Degussa AG in 2001.
Using Tetrapol as the basis, Stockhausen developed the grease solvent soap Verapol in 1909, which was particularly efficient for removing grease and blood stains. It was primarily bought by laundries and hospitals. Naphtha soaps led to significant improvements in chemical cleaning and greatly increased the cleaning effect of benzine, eliminating the significant fire risk associated with this kind of cleaning.
Corporate development
The amicable cooperation with the paint factory Friedrich Bayer & Co. of Elberfeld (later Leverkusen) began in January 1907 and lasted 84 years. Bayer signed an export agreement for foreign sales and made a capital investment in Stockhausen & Traiser as a silent partner. Stockhausen also built a second factory on Bäkerpfad 25 in 1907—the company's headquarters to this day. It manufactured monopole soap and other chemical products, including the leather degreasing agent, Coripol, from 1912. The soap production stayed at the parent plant. The second plant was incorporated on December 1, 1912 as "Chemische Fabrik Stockhausen & Cie." The family-owned company employed the four sons of Julius Stockhausen. It was managed by Adolf Stockhausen, who stepped down in 1914 and Hans Stockhausen (1879-1951), who managed the company until his death. The product portfolio included production aids for the textile, leather, and cleaning industry and for pelt refineries. Stockhausen & Cie. also became part of the export agreement with Bayer. This contractual relationship was transferred to I.G. Farbenindustrie AG in 1925. When this company was discontinued in 1945, the export agreement ended and Stockhausen & Cie. had to establish its own international sales organization from 1947. The silent partnership in Stockhausen & Cie. that had existed since 1912 transferred back to Bayer AG in 1951 and was converted to a limited partnership contribution in 1952. The former Hüls AG of Marl acquired this partnership share and some shares of the founding family on July 1, 1991. Hüls AG purchased the remaining shares of the Stockhausen family in 1996.
Expansion with new products
Chemische Fabrik Stockhausen & Cie. rapidly grew during WWI and was converted to a limited partnership in 1921. It patented Praestabitöl V in 1927, which stood out for its special resistance to electrolytes, acids, and bases and was therefore especially useful in the thread, textile, and leather industry as well as in pelt refineries. In 1930, the company introduced a leather grease that, for the time, made it possible to perform greasing processes during mineral tanning. At the suggestion of a dermatologist, Stockhausen developed the low-acidity, soap-free skin cleansing product from 1932, which has enjoyed success as "Praecutan" since 1934. Praecutan underwent dermatological testing even then, and provided a new alternative to eczema patients, who had been told not to wash with soap. At the suggestion of German workers associations, the product was widely used as a skin cleanser in many factories prior to WWII and helped eliminate oil acne, which had been a severe problem until then. During the war, the company sold a heavily diluted version, Praecutan 1941 and the-ever skin protection products. Praecutan 1941 was the most important sales item after the war, but contained replacement substances due to material shortages and fell out of use after the currency reform in 1948. The skincare products area based on the former Praecutan department forms the origins of today's STOKO Skin Care Business Line. This unit is currently the leading European manufacturer of skin protection, skin cleansing, and skincare products for occupational applications.
Restructuring after the Second World War
Although the plant on Bäkerpfad in Krefeld had survived the war virtually without damage, business operations and the sales structure had to be reorganized. At the same time, the Krefeld plant began to produce the antifoaming agent Antispumin. In 1952, the company acquired a patent for the quick clarification of cloudy solutions, which it used to develop Praestol, a highly successful flocculation aid that nowadays is primarily used in drinking water preparation and wastewater treatment, but also in mining and the paper and oil industry. A breakthrough in 1958 made it possible to bleach furs so thoroughly before processing that they could be dyed, which had previously been almost impossible. Stockhausen's sales tripled between 1952 and 1962, and the plant turned into a permanent construction site. After multiple expansions, the premises reached their current size in 1980. In 1979, Stockhausen Inc., which had been established a year prior as a U.S. sales organization, bought a chemical plant in Greensboro, North Carolina. This factory has been producing Stockhausen products for the North American market ever since.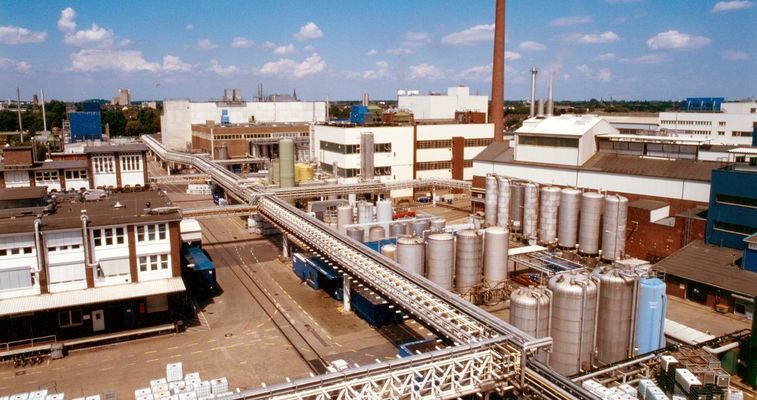 Krefeld site, aerial view from southwest
Stockhausen was converted to a limited partnership (GmbH) in 1980, and thorough reorganization took effect on January 1, 1981. Under the new structure, customer-related activities, such as marketing, sales and technical service, were integrated into operative areas for textile, leather, water and other industrial aids as well as a skincare unit. The superabsorbents area was added in 1993. The leather unit was merged with TFL GmbH of Weil am Rhein in 1996 and has since been divested. Stockhausen sold the textile unit to Bozzetto GmbH in 2002, which still operates at the Krefeld site. The water treatment unit went to Ashland Corp. in 2006, which has since continued the operation as Ashland Deutschland GmbH in Krefeld.
Success with superabsorbents
The Krefeld plant began its research of superabsorbents in 1976. These are water-insoluble, crosslinked polymers, which are mainly produced from acrylic acid. They are capable of absorbing large quantities of aqueous solutions and form stable hydro-gels that do not release the liquid, even under pressure. In 1985, the company developed a process for the manufacture of especially high-value superabsorbents under the brand name "Favor," which are primarily used in hygiene products such as baby diapers, along with many other applications. The large-scale production plant for the highly successful Favor became operational in Krefeld in 1986. Within a few years, three further production facilities followed in Greensboro and Krefeld. Stockhausen acquired a superabsorbents plant in Garyville, Louisiana, in 1998. In 2006, the company also acquired the superabsorbents business of Dow Chemical Company in Midland, Michigan, which also brought further superabsorbents production facilities in Rheinmünster into the company portfolio. Stockhausen took over the acrylic acid facility of Hüls AG in Marl in 1998 and has since produced the most important source material for superabsorbents on its own. The company contributed the plant to a joint venture with Rohm & Haas Company of Philadelphia, Pennsylvania, in 2001, which led to a significant expansion of the production. Superabsorbents hold a top position in the global market. After Evonik Industries had been founded in September 2007, Stockhausen became part of the new Group.