THE RAILWAY PIONEER
HANS GOLDSCHMIDT, CHEMIST AND ENTREPRENEUR
As of 1888, co-owner of the Chemische Fabrik Th. Goldschmidt, as of 1911 co-owner of Th. Goldschmidt AG, and its most important chemist.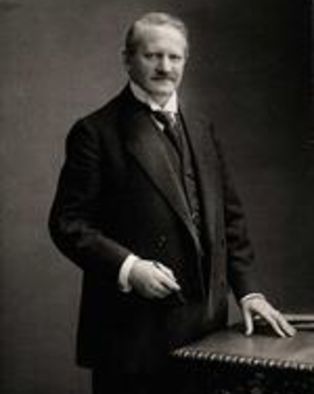 * 1861, Berlin

† 1923, Baden-Baden

Hans Goldschmidt was born in Berlin in 1861, the second son of Theodor Goldschmidt. Like his father and older brother Karl Goldschmidt before him, he studied chemistry at Berlin University, where, as a student of the famous Robert-Wilhelm Bunsen, he soon showed outstanding promise. After gaining his doctorate he joined the management of Chemische Fabrik Th. Goldschmidt in 1888. Over the next 30 years a kind of division of labor developed, in which Hans Goldschmidt progressed research and the development of new products, while his brother saw himself more as an entrepreneur and social politician. This combination proved extremely advantageous for the company – as long as the brothers stuck together. Hans Goldschmidt became one of the foremost chemists of his time.

He is inextricably linked with the development of alumino-thermics. The so-called thermite process originally developed by him for the preparation of carbon-free metals became the standard method for welding railroad and streetcar rails. It is still used worldwide today and its quality is regarded as second to none.

From 1899 the thermite business became Goldschmidt's second mainstay after tin plate detinning. It made a solid contribution to the company's internationalization, since the welding business was always operated "on site" worldwide.

When Friedrich Bergius was appointed as the new research director by Karl Goldschmidt, a rift was created between the brothers, which never healed. In 1916 Hans Goldschmidt left the executive board and moved to the supervisory board. In 1918 he resigned from that board as well and moved back to Berlin. After his death while taking a cure in Baden-Baden, he was subsequently laid to rest in the tomb of honor in Berlin.