Washing no longer forbidden
PRAECUTAN®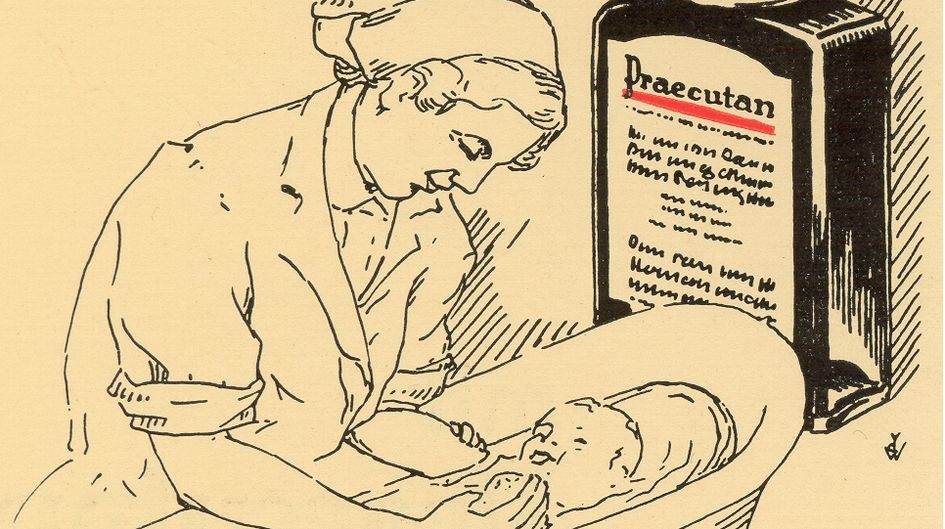 Washing forbidden! This strict instruction issued by dermatologists was dreaded by many skin allergy and eczema sufferers until the mid-1930s, but was also the only way to stop their condition from further deteriorating due to aggressive soaps.
In 1934, the Krefeld-based Chemische Fabrik Stockhausen und Cie. launched PRAECUTAN on the market, the first soap- and alkali-free skin cleanser with a pH value of 6.5. PRAECUTAN suddenly made it possible for people with extremely bad skin conditions to wash themselves again; the dermatological qualities of the new substance were so good that doctors even recommended its use as a bath product for babies.
The initiative for the development of the new miracle substance came from Hans Stockhausen at the end of the 1920s. The driving force behind the development was Dr. Alexander Prior, who started with Praestabit oil, which was almost 100 percent sulfonated oil that had been made for the first time in 1927. Prior was familiar with its favorable qualities for textile fibers and leather, and assumed that it would also be beneficial for the skin. The result was PRAECUTAN (Latin for "on the skin").
Making this innovation as a basis, Stockhausen developed a business line that would be successful for decades - the first that had nothing to do with textiles or leather additives. Today, the Evonik business line STOKO Skin Care offers numerous trade products for skin protection and care - some of which are still from the PRAECUTAN product series.