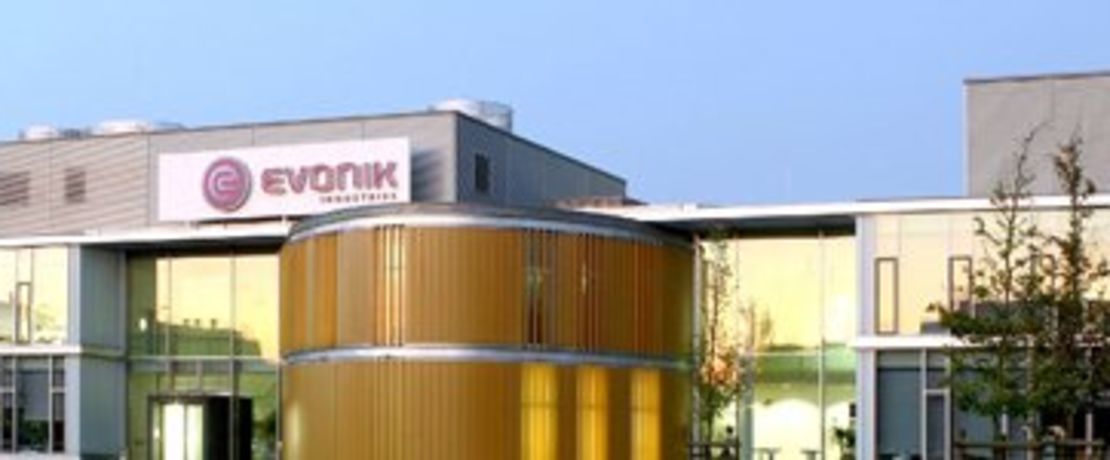 On the way to Evonik Industries
2000
In January, Degussa-Hüls AG establishes a new subsidiary in which it consolidates its former business units Precious Metals, Automotive Exhaust Catalysts, and Cerdec AG. This new Degussa Metals Catalysts Cerdec AG—or dmc2 for short—has its headquarters in Hanau-Wolfgang. In August, Norddeutsche Affinerie of Hamburg acquires the gold and silver separation business, which has been located in Wolfgang since 1973, from dmc2 and moves operations to Hamburg. In a separate move, Degussa-Hüls AG consolidates its dental business within the new subsidiary Degussa Dental GmbH & Co. KG. This company was sold off in October 2001.
Goldschmidt AG establishes a joint venture called Gorapur with Ratec GmbH to increase its involvement in release agents for molded foams. The company's headquarters is in Wittenburg, Mecklenburg, where a state-of-the-art production facility is located. VEBA AG of Düsseldorf, the majority shareholder of Degussa-Hüls AG, merges with VIAG AG, Munich, to form the new EON AG with headquarters in Düsseldorf. This merger combines the chemical activities of both companies, Degussa-Hüls AG (VEBA) and SWK Trostberg AG (VIAG), into a single company.
2001
Early in the year, Degussa-Hüls AG and SKW Trostberg AG merge to form the new Degussa AG, creating the third-largest German chemical company and the worldwide leader in specialty chemicals. The business is based in Düsseldorf. After the merger and the alignment toward specialty chemicals, the group employs some 48,000 people worldwide.
In the four years to follow, the new company divests all non-core parts of its portfolio. This includes Asta Medica AG and dmc², which are based in today's Wolfgang Industrial Park (IPW). The new owners of dmc², Umicore AG and Ferro GmbH, remain in the Industrial Park. Degussa Dental GmbH & Co.KG, which is hived off to the U.S.-based company Dentsply in October, also continues to reside at IPW. The divestment program also affects TFL Ledertechnik GmbH & Co.KG and Phenolchemie GmbH, which were originally part of Hüls AG. Other divestments affect Degussa Bank GmbH, along with Methanova GmbH and Polymer Latex GmbH & Co.KG.
2002
On January 1, Industriepark Wolfgang GmbH is established as a professional service provider for the eleven high-tech companies doing business at the site. Industriepark Wolfgang GmbH today is a subsidiary of Evonik Industries AG.
Degussa AG forms a joint venture with SolarWorld AG of Bonn to extract and market polycrystalline silicon (PCS) from silane. This solar silicon is used as a starting material in the photovoltaic industry, which uses it to manufacture energy-generating solar modules in several work steps.
The Antwerp and Marl sites open up new facilities for isononanol (INA) production, which increase the annual capacity from 140,000 metric tons to 340,000 metric tons. Isononanol is a plasticizer alcohol based on crack-C4.
Degussa AG acquires 70 percent of the largest Chinese persulfates manufacturer, Shanghai AJ Reagents Co. Ltd., Shanghai. The new company, Degussa-AJ (Shanghai) Initiators Co., employs some 120 people and has projected annual revenues of €10 million. This acquisition makes Degussa the largest global manufacturer of persulfates.
2003
CyPlus GmbH is established in January as a spinoff of the former Mining Chemicals Product Line of Degussa AG. CyPlus focuses on the cyanide business and supplies customers in the mining, chemicals,-pharmaceuticals, and surface treatment industries.
One month later, RAG AG of Essen acquires 46.48 percent of Degussa's shares from EON AG; by mid-2004, this share is to increase to 50.1 percent. This step establishes the company as the new majority shareholder of Degussa AG. As part of RAG's transition from a coal mining corporation to an industrial group, the Essen-based company is to take over all shares of Degussa AG by May 2006.
The new Functional Polymers@Interfaces and Surfaces Project House starts at the Wolfgang Industrial Park. Some twenty scientists use the center to research functional polymers, synthetic materials that are not exclusively intended for conventional use as a structural material, but have additional functions because of their specific properties.
The new Degussa (China) Holding opens in Beijing as the Group's regional umbrella organization in China. Degussa has been producing specialty chemicals in China since 1988 and maintains over fifteen companies with production sites in Beijing, Guangzhou, Nanning, Qingdao, Shanghai, and Hong Kong.
In November, a groundbreaking ceremony is held at the Antwerp site for the construction of the world's largest methionine plant, which will have an annual output of 120,000 metric tons. The facility will become operational in October 2006.
2004
Degussa AG opens a research and development center in Shanghai. The company also enters into a cooperation agreement with the Chinese company Changchun Jida High Performance Materials Co. Ltd. (Jida New Materials) of Changchun to jointly develop high-temperature polymers.
In May, Degussa AG acquires full ownership of Agroferm Hungarian-Japanese Fermentation Industry Ltd. (Agroferm) for the distribution of tryptophan.
A new polyether facility with an annual output capacity of 14,000 metric tons becomes operational at the Hopewell, Virginia, site in the United States. This strengthens the activities of several business lines of Degussa AG, including Polyurethane Additives, Coatings and Colorants, and Care Products.
In Marl, Degussa begins constructing a new Future Center. In the Nanotronics Center, also called "Science-to-Business," the company cooperates with universities and industrial partners to develop innovative system solutions for electronic applications.
Production of extruded solid PLEXIGLAS sheets (PMMA) begins in Russia. The facility is operated by Destek in Podolsk, a joint venture of Röhm GmbH & Co. KG, the Unichem Group, and ZAO Orgsteklo JSC of Moscow.
2005
In a partnership with the Northern Chinese Jilin University, Degussa AG establishes JIDA Degussa High Performance Polymers Changchun Co. Ltd. (JIDA Degussa), a joint venture for the production of polyether ether ketone (PEEK) and polyether sulfone (PES).
2006
A formal ceremony is held in Taichung (Taiwan) for the groundbreaking of the production facility for polymethyl methacrylate (PMMA) molding compounds of Degussa Forhouse Optical Polymers Corporation. The molding compounds are used in TFT LCD flat-screen monitors.
Degussa AG and Fujian Nanping Xinyuan Investment Co., Ltd. (Wellink) of Nanping, Fujian Province, China establish the joint venture Degussa Wellink Silica (Nanping) Co. Ltd. (DWS). It will produce and market precipitated silica and silicates.
In Marl, a groundbreaking ceremony is held for a new research center. The new Bio Science-to-Business Center provides space for shared corporate and scientific research and development activities in the area of "white biotechnology," or industrial biotechnology.
Degussa AG and Lynchem Co. Ltd. establish the joint venture Degussa Lynchem Co. Ltd. in Dalian, Liaoning Province, China. The new company produces active pharmaceutical principles and other specialty chemicals.
As part of the acquisition by the RAG Group, Degussa AG divests its construction chemicals business to the BASF Corporation by July. Degussa's NCN business, which is also located in Trostberg and pertains to chemicals for herbicides, growth regulation, pharmaceutical compounds, and nutrition, is consolidated within a separate subsidiary, Alzchem Trostberg GmbH. The new group employs some 1,500 people at the Trostberg, Schalchen, Hart, and Waldkraiburg sites.
RAG-Beteiligungs-AG is established on September 14. It covers Degussa AG, STEAG AG, and RAG Immobilien AG.
2007
The main shareholders' meeting in late 2006 resolves to change the organizational form of Degussa AG effective January 2. From that date on, the company is to do business as a GmbH within RAG Beteiligungs-AG.
RAG Foundation is established in July. Its purpose is to secure the development of RAG Beteiligungs-AG, which is divided into the Chemicals, Energy, and Real Estate Business Areas.
Degussa GmbH and PV Silicon Forschungs- und Produktions-AG of Erfurt sign a supplier agreement for chlorosilanes. PV Silicon is building a production facility for photovoltaic silicon at the Bitterfeld Chemical Park, which is used for the production of polycrystalline wafers for solar cells. Degussa GmbH will supply the new production facility with its Siridion® chlorosilanes from its Bitterfeld plant.
In August, an official ceremony is held on the commissioning of the new production site Degussa Lanxing (Rizhao) Chemical Industrial Co. Ltd. in the Chinese province of Shandong. The new silane plant provides the third starting material for the tire industry, in addition to carbon black and silica. The fourth isophorone production line goes on stream at the Herne site. Isophorone chemicals are used in the manufacture of automotive paint, flooring, and anticorrosive coatings. On September 12, RAG-Beteiligungs-AG becomes Evonik Industries AG, with headquarters in Essen. Degussa constituted the Chemicals Business Area of the new industrial group. Shortly thereafter, Evonik Industries holds a groundbreaking ceremony for a new integrated production facility for methyl methacrylates (MMA) and methacrylate specialty products at the Shanghai Chemical Industry Park (SCIP). The facility became operational in November 2009 and produces Plexiglas® for modern LED flat screens, but also sustainable coatings and various plastic parts.
2008
In March, Evonik Industries took over the remaining 49 percent of the previous joint venture Evonik Degussa Lynchem Co. Ltd, in Dalian, China from the Chinese shareholders. The shares are held through Evonik Degussa China Co. Ltd. The company produces active pharmaceutical principles and other specialty chemicals.
In April Evonik Industries introduced a worldwide new Aerosil® product line that creates even greater transparency of final products. Aerosil® 200 SP and Aerosil® 300 SP are used in silicone items for medical technology, electronics, sports equipment and the food industry, such as nipples made of silicone rubber.
A new absolutely smooth high-gloss ultrapure film of the highest optical quality was launched in June. This ultrapure film, Plexiglas® Superclear OF022, is used in displays and has a special scratchproof coating for this purpose.
Under a strategic cooperation agreement with Microsoft Corporation, the Performance Polymers Business Unit began to supply the projection tabletop for Microsoft Surface™ beginning in July. This was the first surface computing device, which enabled users to interact easily with digital content on the tabletop through touch, gesture, or objects placed on the tabletop. The projection hardware was composed of several optical function layers based on Plexiglas®.
Evonik Rohmax Asia Pacific Pte. Ltd. started up a production facility for oil additives on Jurong Island, Singapore. The facility has been producing high-performance oil additives of the Viscoplex® brand since then.
Evonik Industries and Solar World AG opened their new solar silicon facility at the Rheinfelden plant. Within the scope of the joint venture Joint Solar Silicon (JSSI) the two companies were pioneering an innovative procedure that allowed for energy savings of up to 90 percent compared to conventional solar silicon production.
RAG-Stiftung sells a 25.1-percent stake in Evonik Industries to the British private equity firm CVC Capital Partners
2009
In April, Evonik Industries opened a new facility for the production of sodium methylate in Mobile, Alabama. This product is a ready-to-use catalyst for the production of biodiesel from native oils such as rape and soy oil.
Following a demanding audit process, Evonik Industries AG received the corporate certificate "berufundfamilie" (career and family) from the non-profit Hertie Foundation. The certificate represents recognition of the Group's active efforts to ensure work-life balance. Offers for Evonik employees include childcare, children's vacation programs, flexible working hour models, company social counseling services, and support with the care of needy family members.
The Evonik site in Steinau an der Straße opened its new logistics center in July. The building included an office tract, a dock to receive and ship goods, and an adjoining warehouse.
In October, Evonik Industries AG acquired the Tippecanoe site of Eli Lilly, a large pharmaceutical company in the U.S., in Lafayette, Indiana. The purpose of the acquisition was to boost the company's performance in exclusive synthesis.
Evonik launched a new product, TEGO® Pep 4-17. This bioactive, pure tetrapeptide with anti-aging properties is used in skincare formulations.
Go to