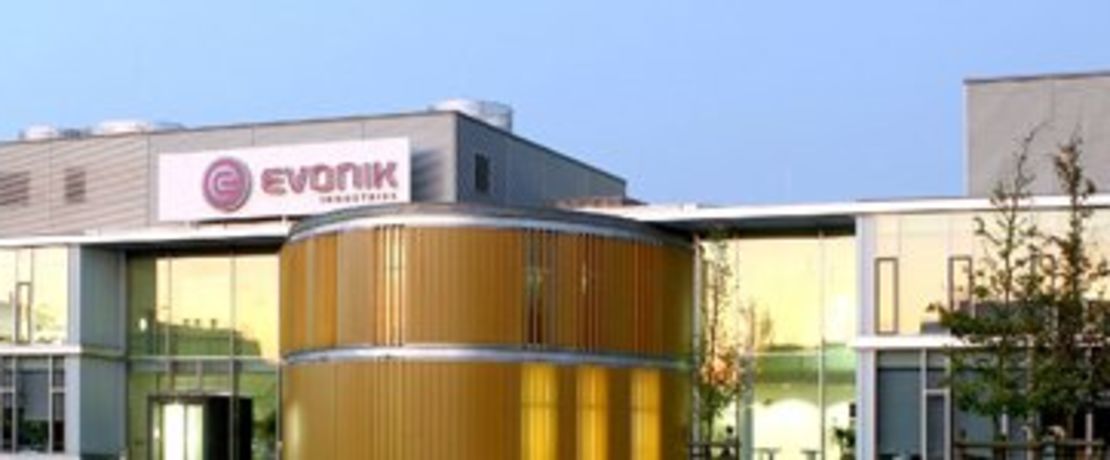 2010
Evonik Industries presented Plexiglas® Soundstop XT Bird Guard, a new product from the family of transparent sound insulation panels. One of the first application sites was the highway from Guangzhou to Shenzhen in southern China.
In February Evonik opened the expansion of the RohMax Technology Center in Shanghai.
After just 15 months of construction time, a new Evonik facility for the manufacture of pharmaceutical active principles was officially opened in the Chinese city of Nanning in Guangxi province.
Evonik Industries took over the majority of the U.S. silica manufacturer Harris & Ford Silco LLC. in Portland, Oregon.
In June, Evonik officially opened a new facility for the production of precious metal powder catalysts in Shanghai. The catalysts produced in the plant are used in the pharmaceutical industry and for fine and industrial chemicals.
Evonik Industries AG took over the polyurethane additive business of BYK-Chemie GmbH, Wesel, to strengthen its business with additives required for the production of polyurethane foam. PU foams are primarily used for insulation in the construction industry, in the food refrigeration chain as well as for upholstery in the furniture, mattress, and automotive industry.
August start-up Together with PV Crystallox Solar Silicon GmbH, Evonik starts operating a new integrated production facility for solar silicon at the Bitterfeld Chemical Park in August. Dr. Klaus Engel, the Chairman of the Executive Board of Evonik Industries AG, was elected President of the Chemical Industry Association (VCI).
2011
The new titanium dioxide plant at the Rheinfelden site of Evonik Industries was officially opened.
In March, Evonik took over the entire Resomer business from Boehringer Ingelheim Pharma GmbH & Co.KG. It included the entire product portfolio of standard and customized polymers for the production of medical technology applications and pharmaceutical formulations.
In response to rising global demand, Evonik expanded its production capacity for polyether ether ketone (PEEK) at the Changchun site in China.
Evonik introduced the new product Acematt 3600. The new silica-based matting agent is a UV-curing coating.
Evonik Industries acquired Hanse-Chemie AG and Nanoresins AG in Geesthacht to secure quick access to additional markets for specialty applications in silicone chemistry.
In April, Evonik Industry sold its carbon black business, which had a long tradition within the Group. The divestment covered 16 production sites in eleven countries.
Evonik started operating a new facility for the manufacture of ultrapure isobutene in Antwerp. Thanks to a newly developed process, the plant can produce isobutene in an especially environmentally friendly manner with low resource consumption.
A new integrated facility for the production of monosilanes and Aerosil® went online at the Japanese Yokkaichi site.
Evonik Industries and Saudi Acrylic Acid Company (SAAC) established a joint venture named Saudi Acrylic Polymers Company (SAPCo) for the production of superabsorbents on the Arabic peninsula. The first production facility is to become operational in late 2013.
Groundbreaking ceremonies for two new research and development centers were held at the Essen/Goldschmidtstraße site. One center will focus on ecologically sound additives and specialty bonding agents for the coatings and paint industry, while the other will develop innovative and sustainable products for the cosmetics industry.
2012
On May 1, Evonik Industries AG established a joint venture with Ampaglas Plastics Group. The new company, Evonik Acrylics Africa (EAA), was set up to extrude PLEXIGLAS® semi-finished products. Ampaglas is the largest producer of extruded plastics in Southern Africa. The new company is headquartered in Elandsfontein near Johannesburg. The objective of the joint venture, of which Evonik holds 51 per cent, is to manufacture high-quality PLEXIGLAS® sheets and to sell them in the growing markets in Africa. The focus is on the market segments of construction and architecture, the design-oriented segments of lighting technologies and furniture, exhibition and shopfitting.
On July 1, Evonik Industries acquired the the spray drying facility of Molda AG in Dahlenburg near Lüneburg. Spray drying is an especially gentle method used to dry sensitive products such as vitamins, food additives, or pharmaceutical excipients and active substances.
In August, the the TEGO Innovation Center for Paints and Coatings was opened at the Essen Goldschmidtstrasse site. In this roughly 5,000 square-meter research center, 90 employees work on innovative solutions and products – with a particular focus on the environment and resource efficiency.
The new application technology center, an ultra-modern laboratory for isophorone chemistry, was inaugurated at the Xinzhuang site in Shanghai in September. Guests at the opening ceremony included the head of the business unit, Dr. Ulrich Küsthardt, the head of the business line, Gerd Brand, members of the business unit and business line management team, as well as participants of the Crosslinkers Business Line's regional business conference.
In fall, Evonik Degussa Corporation finished construction of its production facility in North America for the animal feed amino acid, L-lysine. This doubled the existing plant capacity at the Blair (Nebraska) location to 280,000 metric tons annually.
In November, in Sachsendorf (Saxony-Anhalt, Germany), a new biogas processing plant was inaugurated. The membrane modules and the processing procedure used at the plant were developed by Evonik. The plant is operated by EnviTec Biogas AG and has a processing capacity of 150 cubic meters of raw biogas per hour.
Also in November, Evonik launched a new product, EUDRAGUARD BMC, developed specially for use in food supplements. The principal application areas are the masking of tastes and odors (for example, for products with garlic extract or fish oils) and moisture protection as required in many plant extracts.
2013
In February, the Evonik Vietnam Limited Liability Company was established with headquarters in Ho Chi Minh City, Vietnam. The new sales company makes it easier to introduce and trade products in the country and provides direct market access in Vietnam for Evonik products.
In June, a new facility came on stream in Marl Chemical Park for the production of phthalate-free PVC plasticizers which are to be sold under the name Elatur. The plant has an an annual production capacity of 40,000 metric tons. To develop the plasticizers further, Evonik operates its own research and development laboratory in the Chemical Park and this also provides technical customer service.
In mid-June, the new Innovation Center in Essen was inaugurated. Around 90 employees carry out research here, primarily for applications in the cosmetics industry. A separate workshop area is available for cooperation with customers.
On July 19, Evonik Goldschmidt GmbH was transferred to Evonik Degussa GmbH and ceased to exist. This was the formal end to a company history that began in Berlin in 1847 with the founding of Chemische Fabrik Th. Goldschmidt.
In August, a new multifunctional building was inaugurated in Midrand, Johannesburg (South Africa), as a base for the Sub-Saharan region of Africa. The new building houses offices, laboratories and experimental areas. There is also an exhibition space where Evonik can present its products and those of customers. The research activities in Midrand will focus initially on personal care products and amino acids.
In August, the first analytical center for animal feed in South Asia was opened in Singapore. The range of services provided by this new analytical center includes wet chemistry analysis of amino acid content in raw materials and compound feed, analysis of supplemented amino acids (AMINOBatch®) and near infrared reflectance spectroscopy analytical services for prediction of amino acid content in raw materials (AMINONIR®). In addition, the new center offers feed manufacturers training courses in amino acid analytics.
In August, in Bekasi, Indonesia, Evonik opened its newly expanded production facility for premium raw materials, additives and ingredients for the cosmetic and household care industries. With this step, Evonik increased its capacity for surfactants and esters used in hair care and skincare products and industrial applications. The range of raw materials and additives provided by Evonik's Indonesian plant includes emulsifiers, secondary surfactants, emollients, conditioners, thickeners, and pearlizing agents. In addition, the in-house analytical and technical service lab offers personal and household care manufacturers continuous support with their formulations as well as updates and training on new additives, active ingredients and products.
On September 4, Evonik Industries AG and SECAR Technologie GmbH, based in Hönigsberg, Austria, established a joint venture for the mass production of fiber-reinforced composite components for the automotive and aviation industries.
On October 21, in Puerto General San Martin, Argentina, Evonik opened its new plant for the manufacture of catalysts for biodiesel production. Production at Terminal 6 S.A. has an annual capacity of over 60,000 metric tons and supplies ready-to-use alkoxides for use as catalysts in biodiesel production from renewable raw materials. This new plant is to serve primarily the Brazilian and Argentine markets.
In fall, Evonik opened a new polymerization plant at its Darmstadt site. This increased production capacity by approximately 50 per cent.
In the Shanghai Chemical Industry Park (SCIP) in China, a new plant for the production of organic specialty surfactants was opened with a capacity of 80,000 metric tons. Production focuses on key product groups such as amphoteric surfactants, amidoamines, esters, alkoxylates and quats. Evonik's new production facility is setting standards with respect to environmental technology, quality and reliability. These include emission controls, a two-step water treatment plant and the latest technology.
Following a year's planning, CyPlus GmbH opened a further dissolving station with the innovative SLS (Solid-to-Liquid System) technology at the company Tüprag in Turkey. The SLS technology enables optimal handling of large quantities of cyanide, which is used in gold mining. It minimizes the manual labor involved and greatly improves the dissolution process, the use of one-metric ton packaging containers including the disposal of empty containers is no longer necessary. The design concept for the SLS dissolution station with automatic control was developed by CyPlus and revised in collaboration with the Site Services Business Unit in Wesseling. Tüprag is one of the largest gold mining companies in the EMEA region and, as a subsidiary of the Canadian mining company, Eldorado Gold, it is bound to the highest security and environmental standards. In addition to the Turkish gold mine, Eldorado operates further mines in China; it is also pursuing projects in Greece, Romania and Brazil.
2014
On March 19, Evonik Industries AG sells its global skin care business for professional users, which is bundled under the Stoko Professional Skin Care brand, to Deb Group, Denby, United Kingdom.
Commissioning of the expanded precipitated silica plant at the Map Ta Phut site, Thailand. Silica production, which is a joint venture between Evonik Industries AG and Oriental Siam Company, was founded in 1990. Evonik participated as the main shareholder and has been responsible for the operation of this site since 1999.
In the second quarter, the automotive group Daimler AG will acquire the remaining 50.1 percent of the shares in Li-Tec Battery GmbH and 10 percent of the shares in Deutsche Accumotive GmbH & Co.KG. at the Kamenz site of Evonik Industries AG. As a result, Daimler AG is the sole owner of both companies.
In the second quarter, Evonik Industries AG will start up an integrated production complex for isophorone and isophorone diamine in Shanghai, China. The plants have an annual capacity of 50,000 tons.
In Jilin, China, Evonik Industries AG will start up a new hydrogen peroxide plant in July. The plant has an annual capacity of 230,000 metric tons, bringing the total global annual capacity to more than 900,000 metric tons.
In the fall, the Rhine-Ruhr municipal utility consortium will take over the remaining 49 percent of the Essen-based energy company STEAG GmbH from Evonik Industries AG. As a result, the municipal utility consortium, which acquired a 51 percent stake in STEAG in 2011, will become the sole owner of STEAG GmbH.
At the Rheinfelden site, a new plant for the production of surface-treated, fumed specialty silicas of the AEROSIL brand will be inaugurated on October 7. With this plant, Evonik Industries AG is expanding its global production capacities of specialty fumed silica by 25 percent.
In the fourth quarter, the Consumer Specialties Business Unit of Evonik Industries AG will open a new plant for the production of ingredients for the cosmetics and consumer goods industries in Americana, Sao Paulo, Brazil. The plant produces up to 50,000 tons of ingredients and precursors annually for global and regional customers and creates 80 new, skilled jobs.
After two years of construction, Evonik Industries AG will officially start up its new methionine complex (Me5) in Singapore on November 4. The plant on Jurong Island has an annual capacity of 150,000 metric tons, giving Evonik a global methionine capacity of 580,000 metric tons.
2015
After a two-year project, planning, and construction phase, Evonik Industries AG inaugurates the expanded oil additives plant on Jurong Island in Singapore on May 7. The expansion of the plant meets the highest standards in safety, efficiency, productivity and quality. The capacity of the plant has almost doubled. This will make it the largest production facility for oil additives within Evonik's global production network. Other plants are located in the USA, Canada, France and Germany.
On June 5, Evonik Industries AG acquires Monarch Catalyst Pvt. Ltd., Dombivli (India). The company, which employs around 300 people, is renamed Evonik Catalysts India Pvt. Ltd. Evonik's catalyst activities in India will be bundled in this company.
At the end of June 29, Evonik Industries AG will sell its remaining 10.3 percent stake in the housing company Vivawest GmbH to RAG Aktiengesellschaft. RAG is thus increasing its stake in the largest housing provider in North Rhine-Westphalia from 7.9 per cent to 18.2 per cent. With this step, Evonik has completely divested itself of its real estate stake in the course of its focus on specialty chemicals.
Evonik Industries AG's new production plant for REWOQUT is successfully commissioned in Americana (Brazil) in July. The product, which is manufactured by the Household Care business line as the main component of fabric softeners, impresses with the company's global quality standards.
On October 26, the new plant for Mepron will be put into operation at the Mobile Alabama site in the USA.
On October 28, Evonik Industries AG will open the expansion of its production facilities for specialty silica of the SIPERNAT and CARPLEX brands in Ako (Japan). With this investment, Evonik is increasing the number of companies using DSL. Japan Co., Ltd. (DSL) increased its capacity for precipitated specialty silica in Japan by approximately 50 percent. Evonik holds a 51 percent stake in the joint venture DSL with Japan's Shionogi & Co., Ltd.
Evonik Industries AG completes the acquisition of PeroxyChem Netherlands B.V., Delfzijl, on October 30, so that PeroxyChem Netherlands B.V. is transferred to Evonik. The transfer includes the location in the Netherlands (production and employees) as well as the associated H2O2 business. The company is renamed Evonik Peroxide Netherlands B.V.
2016
In January, Evonik Industries AG inaugurates its new ROHACELL plant in the Shanghai Chemical Industry Park (SCIP). The plant is the third in Evonik's line of ROHACELL production facilities worldwide. The other two ROHACELL production sites are located in Darmstadt (Germany) and Mobile, Alabama (USA).
On March 3, Evonik Industries AG acquires MedPalett AS, based in Sandnes (Norway). MedPalett specialises in anthocyanin-containing dietary supplements. With this acquisition, Evonik intends to expand the portfolio of the Health Care Business Line in the field of Advanced Food Ingredients.
In June, Evonik Resource Efficiency GmbH will start up a thin-film composite plant for coating membranes for organophilic nanofiltration and gas separation at its Marl site.
In July, Evonik Industries AG will start up a new plant for the biotechnological production of biolys in Castro (state of Paraná, Brazil) with a production capacity of around 80,000 metric tons per year.
On July 20, Evonik Industries AG will start up its plant in Americana (São Paulo, Brazil) for the production of precipitated silica, which is used in particular for low-rolling tires. The plant is the first for easily dispersible silica (HD silica) in South America.
CyPlus Idesa, a joint venture between Evonik and Mexico's Grupo Idesa, successfully starts production of sodium cyanide in Coatzacoalcos, Mexico, in September. CyPlus Idesa is thus the first producer of sodium cyanide in the major growth market of Mexico. The new plant has an annual capacity of 40,000 metric tons and meets the latest technology, safety and environmental standards.
On September 13, Evonik Industries AG will start up the world's first plant in Antwerp (Belgium) for the production of a new methionine source specifically for shrimp and other crustaceans. The plant has a modular design and allows the production capacity to be increased according to customer demand.
2017
On January 1, Evonik Industries AG establishes a new subsidiary, Evonik Digital GmbH, based in the center of the city of Essen. A team of 20 experts is now developing new digital business models and building up digital skills in a targeted manner. Cooperation with well-known technology companies and promising start-ups plays a decisive role in this.
On January 3, Evonik Industries AG acquires the specialty additives business of the U.S. company Air Products and Chemicals Inc. With this acquisition, Evonik is strengthening its leading position in the attractive growth market for specialty additives and complementing its product and customer portfolios. Air Products' specialty additives business employs approximately 1,100 people at 11 locations and generated sales of approximately one billion US dollars in 2015.
Founding of Evonik East Africa Ltd. by Evonik International Holding B.V. on February 21, 2017 with effect from May 29, 2017. The new company, based in Nairobi, Kenya, provides technical support, business development, and sales and marketing of Evonik products.
In March, Evonik Industrie AG acquires the Hamburg-based company Dr. Straetmanns GmbH, which specializes in the development and marketing of alternative preservative systems for the cosmetics industry.
On March 8, Evonik Performance Materials GmbH and Bayer CropScience inaugurate the new plant for the production of acrolein cyanohydrin-O-acetate (ACA) at their site in Mobile, Alabama, USA
On May 31, Evonik Industries AG founds its subsidiary Evonik (Philippines) Inc. in Manila to support the growing market and expand business contacts in this Southeast Asian region.
Effective September 1, Evonik Industries AG will take over the global silica business of the U.S. company J.M. Huber, headquartered in Edison, New Jersey, USA. The silica business employs around 700 people at six locations worldwide, with a focus on the USA, China and India.
On September 5, Evonik Industries AG will start up a new plant in Shanghai, China, for the production of a wide range of organically modified specialty silicones. The fabrics produced in the batch process are used, for example, in polyurethane, paint and varnish applications as well as various industrial applications.
In mid-November, Evonik Resource Efficiency GmbH will start up the new membrane production facility for SEPURAN gas separation modules at its site in Schörfling (Austria).
At the end of the year, Evonik Industries will start up a new compounding plant for PLEXIGLAS molding compounds in Shanghai (China), which will now replace the long-serving PICOC SSE-90 line.
Evonik Industries AG will close the plant of its subsidiary Evonik Para-Chemie GmbH in Austria at the end of 2017. Para-Chemie was founded in 1958 under the name "Organglasindustrie Dr. Ludwig Polsterer" and was merged into the former Degussa AG in 1965 via a holding company.
2018
In January, DSM and Evonik Industries AG establish the joint venture Veramaris V.O.F.  for the production of omega-3 fatty acids from natural seaweed for animal nutrition. The joint venture, in which both companies hold equal shares, is based at the DSM Biotech Campus in Delft (Netherlands).
Opening of the office of Evonik Pakistan Pvt Ltd in Karachi, which was founded at the end of October, on December 4. It strengthens Evonik's local presence as well as development opportunities for various business lines such as Animal Nutrition, Silica, Oil Additives, Health Care, Personal Care, and Interface & Performance.
2019
In June, after a two-year construction period, Evonik Industries AG officially starts up its second plant complex for the production of MetAMINO® (DL-methionine) and strategically important precursors in Singapore. With the methionine complex on Jurong Island commissioned in 2014, both plants now have an annual production capacity of 150,000 tonnes of DL-methionine each, bringing the total global annual capacity to around 730,000 tonnes. The new complex was built on the model of the first plant right next to it.
Evonik Industries AG completes the sale of its methacrylate Verbund on August 1. The closing of the transaction was completed on July 31, after the purchase agreement had already been signed on March 4. The relevant antitrust authorities had their consent has already been issued without conditions.