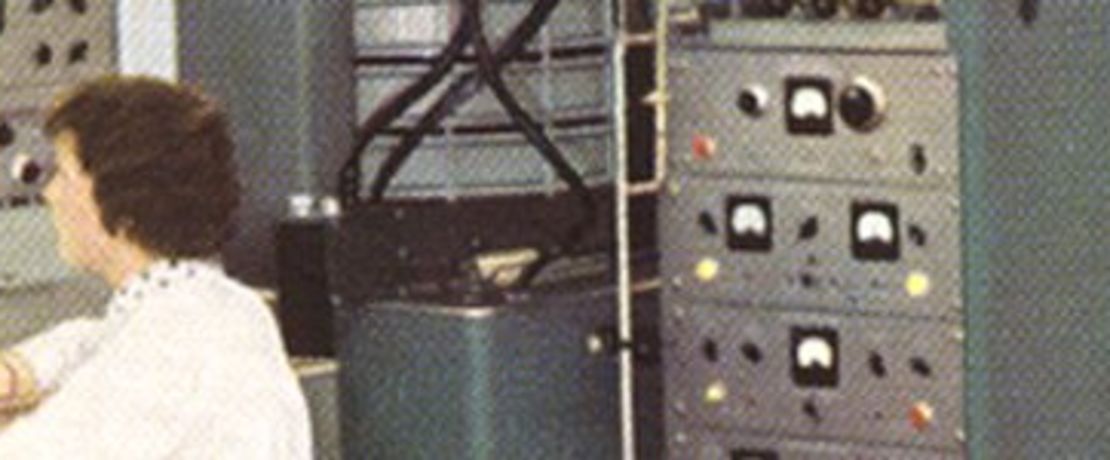 1960
On January 2, Otto Haas, businessman and co-founder of Röhm & Haas GmbH, died in the U.S. in Philadelphia, Pennsylvania. He had set up the American branch of the Darmstadt Company in 1909, which operated independently as Rohm & Haas Company from 1917. In 1970 the Haas family left the Darmstadt Company, in which they still held shares as American stockholders. As a result, the company name was changed to Röhm GmbH on January 1, 1971.
A new administration tower was built on Th. Goldschmidt AG's Essen site to complete the reconstruction after the Second World War.
1961
Degussa consolidated its chemical research at the Hanau-Wolfgang location. Later the Chemical Applications Technology and Metallurgical Research departments also set up shop at what is now the Wolfgang Industrial Park, which became the Group's most important research center. Today Evonik Industries AG has more than 40 research facilities worldwide.
Under the brand name Tegostab, Th. Goldschmidt AG began production in Essen of stabilizers for polyurethane foams (PU foams), which as an additive considerably improved the quality of conventional PU foams. PU foams are used for example in furniture upholstery and in automobile seats and as insulation in refrigerators and windows.
1962
By founding new marketing companies in Italy, France and the USA, Degussa further developed its international market position.
At the Rheinfelden works, Degussa started commercial production of hydrogen peroxide using its own method. The uses for hydrogen peroxide include bleaching processes for paper and textiles and also decontamination of exhaust gases and wastewater.
1964
Degussa opened a plant for manufacturing methyl methacrylate (MMA) at the Wesseling works. Today this is further processed into Polymethylmethacrylate (PMMA)and marketed in the form of acrylic glass panels and as molding material for extrusion and injection molding. They are used in the automotive industry, (including for low-solvent coatings and paint, rear lights, body parts) in illuminated promotion, but also in chemical anchors or as concrete plasticizers. Additional growth markets for PMMA include flat screens and sound insulation walls, and the product is also finding increasing use in solar applications and lightweight design components.
1965
By setting up a plant to manufacture organomodified siloxanes (OS plant) on the newly acquired eastern site of the Essen works, Th. Goldschmidt AG finally made a move towards becoming a supplier of silicon-based, organic specialty products. The OS plant was extended and modernized many times in the coming decades.
1966
In a joint operation with the Mitsubishi Metal Corporation, Degussa founded the Nippon Aerosil Co. Ltd., in Tokyo, Japan, to produce and market AEROSIL . Two years later the AEROSIL burner was started at the Yokkaichi site. After a record time of only eight months, an additional plant for manufacturing AEROSIL R 972 was added.
1967
In Weiterstadt near Darmstadt, Röhm & Haas GmbH started construction of a new plant to manufacture PLEXIGLAS in the form of flat panels. Th. Goldschmidt AG followed the trend toward internationalization in the chemical industry and established subsidiaries in Belgium, France and Spain. The first sales company had been set up in Italy the year before.
1968
Degussa laid the foundations of a large new production site for the company when it established Degussa Antwerpen N.V. in Belgium. The Antwerp works have been continuously expanded and today it is one of the Group's most important production facilities.
In Latin America Degussa strengthened its market position by setting up new sales organizations in Mexico and Argentina.
1969
At the new Weiterstadt works of Röhm & Haas GmbH, the production shop was commissioned with 18 extrusion machines for manufacturing PLEXIGLAS panels. Today's Evonik Röhm GmbH still produces extruded and cast panels there. There are also plants at Weiterstadt that manufacture specialized pharmaceutical products such as EUDRAGIT.
Go to